Time to go grab your love ferns and change your puppy's name to "Crawl" The Warrior King. How to Lose a Guy in 10 Days is getting a remake but as a television series and it feels like Christmas has arrived 5 months early.
We never thought that this cult classic would ever see a reboot, needless to say, it's very own TV series. Everybody's favorite romantic comedy "How to Lose a Guy in 10 Days" was released in 2003, which starred Kate Hudson and Matthew McConaughey. Ok, that might make you feel a little old, but that's what makes the remake of this movie so nostalgic.
Guy Branum will be the main writer. Yes, the same writer who wrote the scripts for The Mindy Project and Awkward the TV series. But you won't be able to find this show on your normal mobile-streaming platforms, as it will only be available on Quibi. Believe us, you need to download this application now. It is changing the way we watch movies and TV.
But the script-writer Guy knew we would be doubtful as to whether they would be doing justice to the original movie, so he took to social media to reassure us. After tweeting about his excitement about the project, he told us that they would be observing, researching and consulting the original movie for inspiration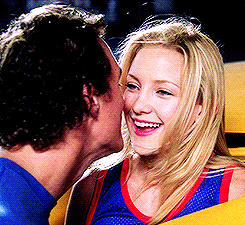 The original movie is about a columnist for a fashion magazine called Composure, named Andie Anderson (Kate Hudson) and an oversexed, advertising executive named Benjamin Barry (Matthew McConaughey). Andie has made it a mission to make Ben dump her in less than10 days and he needs her to fall in love with him in less than ten days. Entertainment at its best!
Still there is no information about when the actual release date is or who will be cast for the main characters. But, we imagine they will not disappoint or leave us hanging for too long.
So, the question is, how is the television series going to be different from the original? Well, according to the scriptwriter's tweets, the new plot will still follow the storyline of a young hip fashion columnist and an oversexed advertising executive but it's the second part of the story. As they are already past the ten days and are in love, but that is when the hard part starts.
Basically, it's about how hard it is for them to stay monogamous and keep their relationship alive with everything happening around them. Guy Branum says it will be similar to the original movie but with a whole more sex drive.
But, already fans are tweeting back that what the new TV series needs is to make it an acceptable reboot. Some fans say it must include the love fern, even one follower wrote that a love Vensus flytrap would be suitable. Plus, fans said it would not be a remake without "Crawl" The Warrior King that pees all over the pool table or poker table.
We are still in need of more details, but in the meantime why don't you watch, for like the hundredth time, everybody's favorite romantic comedy – How to Lose a Guy in 10 Days.